Paramount Portrait Labels
Collection of Old Hat Records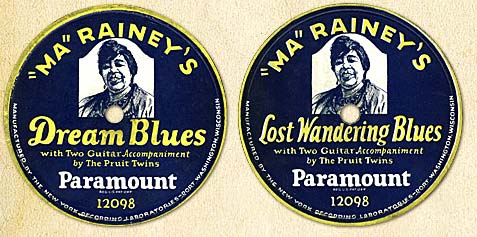 Paramount Records, best known for its roster of stellar blues and jazz artists during the 1920s, successfully marketed its 12000 series to America's black population, then numbering twelve million. Early in the decade, vaudeville star Gertrude "Ma" Rainey of Georgia reigned as Paramount's best selling artist, and in 1924 the company issued a special portrait label for Rainey on Paramount 12098. An advertisement in the June 28th edition of the Chicago Defender trumpeted the disc:
Nothing Like It Ever Made Before! "Ma" Rainey wants you all to have a souvenir record, with her picture on the record. The famous Mother of the Blues doesn't want you to ever forget her- that's how much she loves her friends. So we put her picture on her newest record, "Dream Blues." On the other side is "Lost Wandering Blues" by "Ma." Accompaniment by Pruit Twins, on those guitars that made Kansas City famous.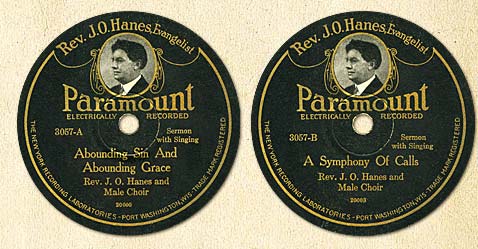 In 1927 the company issued a second portrait label, this time on its newly initiated 3000 series of Old Time Tunes, marketed to a white audience. Paramount 3057 featured Reverend J. O. Hanes, a popular evangelist from Birmingham, Alabama, delivering two sermons, A Symphony of Calls and Abounding Sin And Abounding Grace, accompanied by a male choir. James Oscar Hanes (born 1873) was recruited by Paramount talent scout Harry Charles, also of Birmingham, who no doubt hoped the picture record would capitalize on the minister's local fame. However, after a single recording session, the Reverend Hanes never returned to the studio.
By 1928, Ma Rainey's vaudevillian style had fallen from favor, and Texas bluesman Blind Lemon Jefferson wore the mantle of Paramount's top selling artist. The company issued its third and final portrait label on Paramount 12650, this time with Jefferson's likeness. Billed as "Blind Lemon's Birthday Record," the disc coupled Piney Woods Money Mama and Low Down Mojo Blues, featuring Jefferson's distinctive vocal and guitar.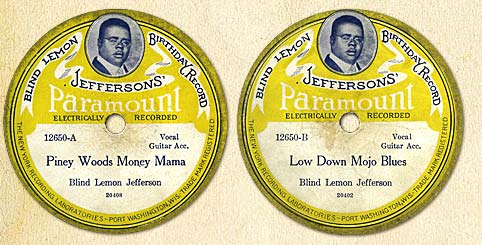 The fortunes of Paramount, "The Popular Race Record," took a sharp downturn at the end of 1929, with the death of Blind Lemon Jefferson and the onset of the Great Depression. The company struggled on for another four years, but its recording laboratory closed its doors for good in December 1933.
Sources
Chicago Defender, June 28, 1924.

Paramount 12000/13000 Series by Max E. Vreede, Storyville Publications, 1971.

Paramount's Rise And Fall by Alex van der Tuuk, Mainspring Press, 2003.

Blues And Gospel Records 1890-1943, Fourth Edition, by Robert M.W. Dixon, John Godrich, and Howard Rye, Clarendon Press, 1997.

Country Music Records, A Discography, 1921-1942, by Tony Russell, Oxford University Press, 2004.

Catalog of Copyright Entries: Books, Volume 10, Issue 1, Library of Congress, 1913.
Discography
Paramount 12098
"Ma" Rainey, vocal, acc. Miles Pruitt, banjo/ Milas Pruitt, guitar
Lost Wandering Blues (1698-2) Chicago, c. March 1924
Dream Blues (1699-1) Chicago, c. March 1924

Paramount 3057
Rev. J.O. Hanes, sermons with singing, with male choir
Abounding Sin And Abounding Grace (20000-1) Chicago, c. September 1927
A Symphony Of Calls (20003-1) Chicago, c. September 1927

Paramount 12650
Blind Lemon Jefferson, vocal, acc. own guitar
Piney Woods Money Mama (20408-2) Chicago, c. March 1928
Low Down Mojo Blues (20636-1) Chicago, c. June 1928