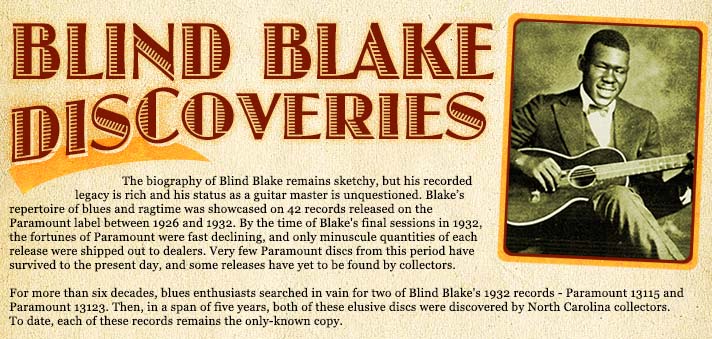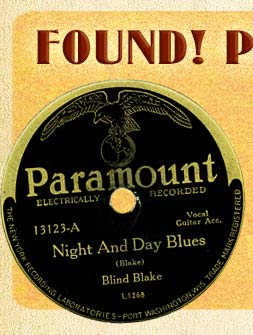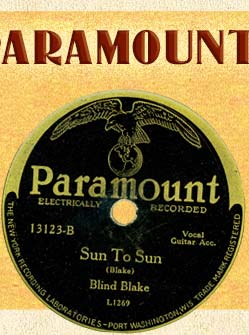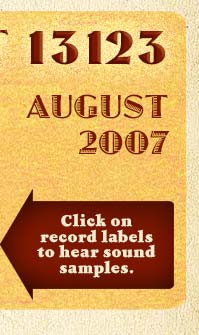 Paramount 13123 came to light in August 2007 when it was retrieved from an old steamer trunk in a mobile home park in Raleigh, North Carolina, and acquired by Marshall Wyatt of Old Hat Records.
Noted collector and Blind Blake expert Sherwin Dunner had this to say after first hearing the disc:
"It reinforces a suspicion I had that Blake was searching for a different feel, direction, variety in his material. I think maybe the popularity of his early ragtime style and kind of plaintive singing started to wane, or maybe even more likely, he got bored doing the same thing over and over and wanted to break away from some of the formulated patterns. I hear these sides as being much more bluesy in his singing, and even in those sparsely noted straightforward melody patterns (Blake's Philip Glass style), he's got such great feel and such a ringing tone, it's really satisfying to hear. And the double-time breaks certainly tell you that he hasn't lost it in his command of the guitar and percussive ragtime finger picking."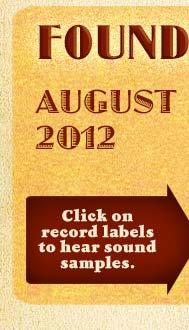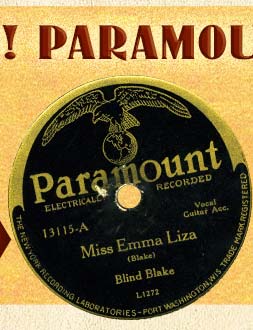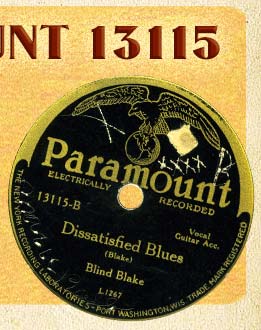 Paramount 13115 was discovered at the annual Hillsville, Virginia flea market in August 2012, and purchased by a collector who wishes to remain anonymous. The disc was subsequently sold to Paramount collector John Tefteller, who had this to say:
"Paramount knew they were going out of business shortly. They were grasping at straws, and so they were telling the few people who were still recording for them to experiment and try to come up with something that would sell. I believe Emma Liza is a reworking of a Clarence Williams jazz record, but what Blake does in the song is, he tries to sound like Louis Armstrong - he's trying to do it in a jazz fashion. There's a part on the record where he does scat singing and changes his voice to a little bit of falsetto, and it's quite different. Dissatisfied Blues is much more along the lines of a traditional Blind Blake record, but again he's using a variant in his voice and he's actually doing a whole lot of rapping on the guitar, which he never did in any record before that."