BARBECUE ANY OLD TIME
Blues From The Pit 1927-1942
OLD HAT CD 1008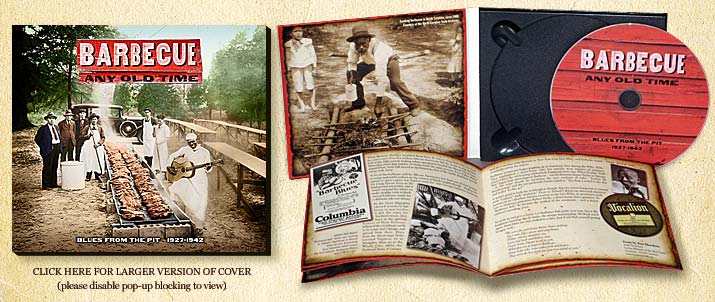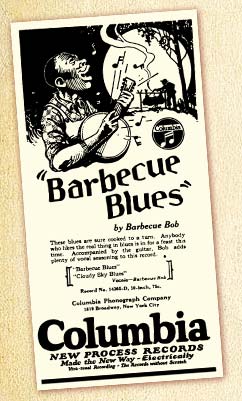 Blues and barbecue make perfect companions, both brimming with down-home flavor. Barbecue Any Old Time is an anthology of vintage blues that celebrates the joys of eating meat, with plenty of sly nods to other worldly pleasures. In the early twentieth century, millions of Southerners moved from hardluck farms to the big cities of the North and West. As the Great Migration carried Southern barbecue to new locales, it did the same for Southern music. Jazz, blues, and barbecue would eventually sweep the nation. This CD presents the hokum jive of Frankie "Half Pint" Jaxon, the gritty washboard rhythms of Charlie Campbell, 12-string bottleneck blues by Barbecue Bob, the big-city vocals of Georgia White, Piedmont blues by Blind Boy Fuller, the red hot jazz of "Tiny" Parham, the double entendres of Bessie Jackson, and much more - 24 tracks in all, originally recorded between 1927-1942.
The music of Barbecue Any Old Time has been expertly remastered for digital clarity, and the CD comes with a handsome 20-page, full-color booklet that chronicles the spread of blues and barbecue across America. Opening with an essay by noted Southern historian Tom Hanchett, the booklet also features rare photographs, detailed song descriptions, and a complete discography.

SONG LIST AND SOUND SAMPLES
(Disable popup blocking to access QuickTime samples)

1. DOWN AT JASPER'S BARBECUE Frankie "Half Pint" Jaxon
2.WHO DID YOU GIVE MY BARBECUE TO? - Part 1 "Big Boy" Teddy Edwards
3. PIG MEAT ON THE LINE Memphis Minnie
4. PORK CHOP BLUES The Two Charlies
5. BARBECUE BUST Mississippi Jook Band
6. I CRAVE MY PIG MEAT Blind Boy Fuller
7. BARBECUE BLUES Barbecue Bob
8. PEPPER SAUCE MAMA Charlie Campbell and His Red Peppers
9. PIGMEAT BLUES Georgia White
10. GIMME A PIG'S FOOT AND A BOTTLE OF BEER Frankie "Half Pint" Jaxon

11. PIGS' FEET AND SLAW Tiny Parham And His Musicians

12. HAM BONE AM SWEET The Four Southern Singers
13. MEAT CUTTIN' BLUES Hunter And Jenkins
14. BARBECUE ANY OLD TIME Brownie McGhee
15. COME ON DOWN Jolly Two

16. BARBECUE BESS Bessie Jackson

17. I HEARD THE VOICE OF A PORK CHOP Bogus Ben Covington
18. PIG MEAT IS WHAT I CRAVE Bo Carter
19. FAT MEAT IS GOOD MEAT Savannah Churchill And Her All Star Seven
20. SMOKED MEAT BLUES Richard M. Jones' Jazz Wizards
21. MEAT MAN PETE (Pete, The Dealer In Meat) Vance Dixon And His Pencils

22. BARBECUE BLUES Hank Jones And His Ginger

23.WHO DID YOU GIVE MY BARBECUE TO? - Part 2 "Big Boy" Teddy Edwards
24. ALABAMA BARBECUE Tempo King And His Kings Of Tempo