North African Tribesman with Handcrafted Fiddle
Inscribed lower left: "Negro Musicien" / prob. Studio of Alexandre Leroux, Algeria, c.1890
Vintage albumen print, 8 1/4" x 11 3/4" • Collection of Old Hat Records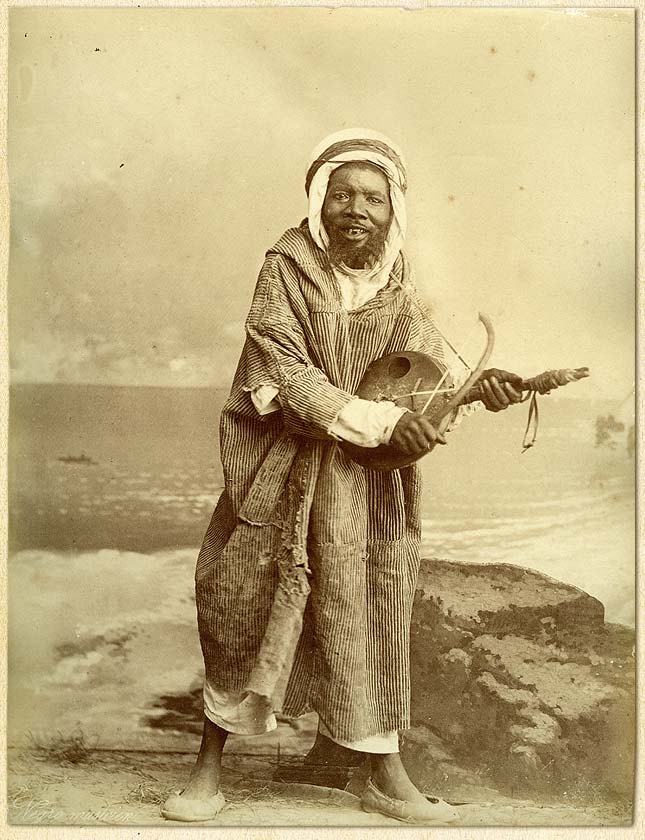 Here a native musician poses with apparent pride before the photographer's painted backdrop, holding his handmade instrument and arched bow. The fiddle has a single string, probably of horsehair, that passes over a notched bridge, and the soundbox is likely fashioned from a gourd stretched with animal skin.
This print bears no photographer's mark, although a similar photograph depicting the same musician is signed "Leroux." Alexandre Leroux opened a studio in Algiers in 1876, one of several French photographers who operated in Algeria during its lengthy stint as a French colony. These studios satisfied a steady demand from Europeans for views of "exotic" locales. This photograph probably came from a portfolio of high-quality prints documenting Algeria's customs, architecture, professions, and physical features.